We are talking about it…
Among the Artisan d'Art du Vexin, the quality and originality of the creations of P'tit Ours du Vexin have been praised more than once in the media.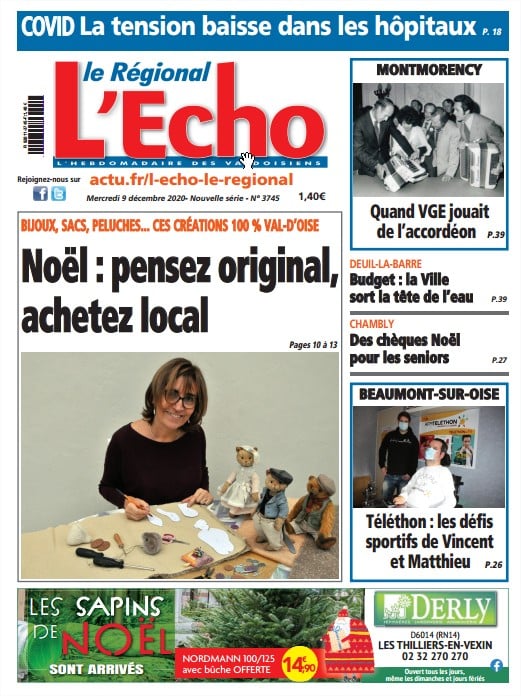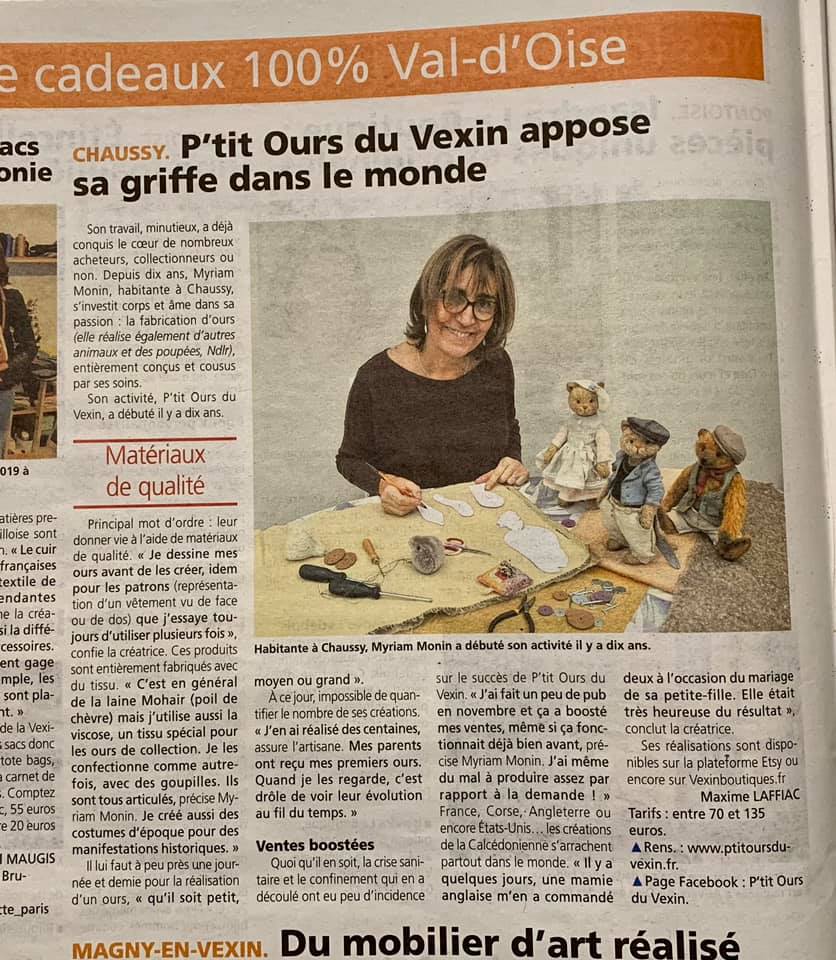 Val d'Oise. Le P'tit Ours du Vexin in Chaussy puts its stamp on the world
Living in Chaussy (Val-d'Oise), Myriam Monin started her activity ten years ago. In particular, it manufactures fabric bears, which have already won over many people. His meticulous work has already won the hearts of many buyers, collectors or not.
For ten years,
Myriam Monin
, living in
Chaussy
(
Val d'Oise
), invests body and soul in her passion: the manufacture of bears (she also makes other animals and dolls, Editor's note), entirely designed and sewn by her.
His activity,
P'tit Ours du Vexin
, started ten years ago.
Quality materials
Main slogan: bring them to life using quality materials.
"I draw my bears before creating them, ditto for the patterns (representation of a garment seen from the front or from the back) that I always try to use several times", confides the designer. These products are made entirely with fabric.
"It's usually Mohair (goat hair) wool, but I also use viscose, a special fabric for collectible bears. I make them as before, with pins. They are all articulated, specifies Myriam Monin. I also create period costumes for historical events. "
It takes him about a day and a half to make a bear, "whether small, medium or large". To date, it is impossible to quantify the number of his creations. "I have made hundreds of them," assures the craftswoman. My parents received my first bears. When I look at them, it's funny to see their evolution over time. "
Anyway, the health crisis and the resulting confinement had little impact on the success of P'tit Ours du Vexin.
"I did a bit of advertising in November and it boosted my sales, even if it was already working well before, specifies Myriam Monin. I even have trouble producing enough for the demand! "
France, Corsica, England or even the United States … the creations of La Calcédonienne are popular all over the world.
"A few days ago, an English granny ordered two from me on the occasion of her granddaughter's wedding. She was very happy with the result, "concludes the designer.
His creations are available on the Etsy platform or on Vexinboutiques.fr
Through Maxime Laffiac Published on